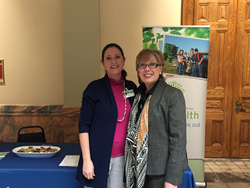 GPT Showcases Telemedicine Program to State Government Officials Via Live Demo
Waycross, GA (PRWEB)March 09, 2016
Georgia Partnership for TeleHealth (GPT), a charitable nonprofit promoting the establishment of telemedicine programs in communities throughout Georgia, addressed legislators regarding its telehealth network and "Doctor of the Day" initiative at the Georgia State Capital on February 16, 2016. This marks seven consecutive years that GPT has been invited to address state government officials in session.
GPT had the honor of conducting a telemedicine demonstration and introducing the virtual "Doctor of the Day" Initiative for the Georgia State Senate. During the demonstration a connection to the Appling County High School Based Health Center (SBHC) occurred. Jennifer Murphy, SBHC coordinator between the Appling School District and Appling Health System demonstrated how telemedicine works in a school setting via GPTs telemedicine equipment. Dr. Scarlet Copeland, Superintendent of Appling Schools, described the benefits of having telehealth services on campus, noting that it allows for fewer missed school days and a greater overall health of the student body. Dr. George Shokri of Tift Regional Medical Center served the members of the House and Senate as the virtual doctor of the day. The medical aid station was open to all legislators and staffers during session.
Rena Brewer, CEO of Georgia Partnership at Telehealth and Sherrie Williams, Executive Director at Georgia Partnership for Telehealth were on hand to address the state legislature regarding GPT's telehealth network.
"We would like to thank the Georgia State Assembly for allowing us the opportunity to conduct a live demo during session and for their support over the years," said Sherrie Williams, Executive Director at Georgia Partnership for TeleHealth. "One of GPT's key objectives is to generate awareness for telemedicine and its benefits. It is absolutely crucial that we educate our lawmakers on the impact that telemedicine programs in schools can have on the overall health and wellness for the children of Georgia."
Currently GPT works with more than 600 telehealth endpoints in Georgia, 74 Georgia public schools and 34 skilled nursing homes linking more than 200 medical specialists and primary care physicians to patient presentation.
###
About Georgia Partnership for Telehealth
Georgia Partnership for TeleHealth is a charitable nonprofit corporation, which was formed to promote improvements in healthcare and healthcare facilities in communities by assisting in the establishment of telemedicine programs. GPT is known as the leading agency globally focusing on increasing access to healthcare through innovative use of technology. GPT is one of the entities that belong to the Global Partnership for TeleHealth.
The mission of the Global Partnership for TeleHealth is to deliver worldwide access to healthcare. Our unparalleled success in the United States in applying telehealth programs and services has assisted agencies in providing cost effective, efficient, and high quality healthcare.
For media inquiries, contact:
Samantha Haas
Georgia Partnership for TeleHealth
samantha.haas(at)gatelehealth(dot)org
866-754-4325