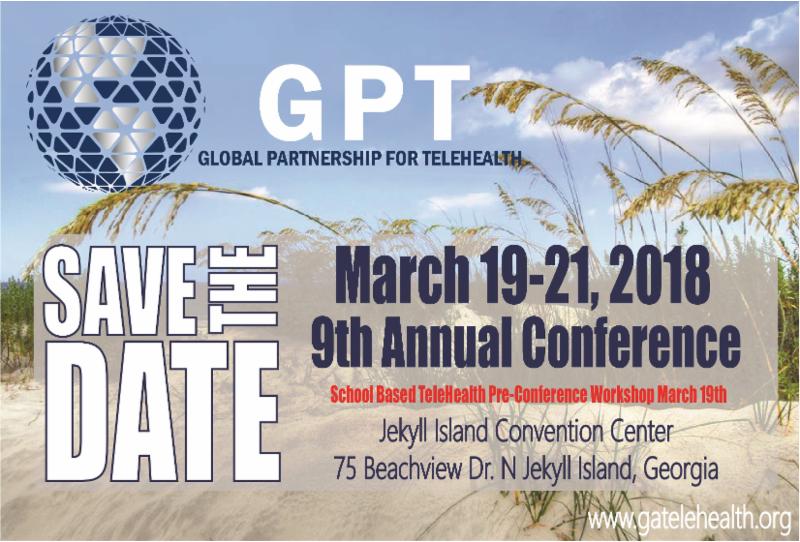 Due: September 29, 2017
Event Date: March 19-21, 2018
Location: Jekyll Island Convention Center – Jekyll Island, GA
Georgia Partnership For Telehealth's 2018 Annual Conference will be held at the Jekyll Island Convention Center on beautiful Jekyll Island, Georgia on March 19-21. Once again, the conference will feature hundreds of participants and exhibitors and unlimited networking opportunities.
The 2018 Annual Conference Committee (ACC) is seeking proposals that reflect the best speakers in the field informed by theory, research, and practice.
The committee invites proposals that:
* Reflect innovation and cutting edge content
* Stimulate and provoke discussion and audience engagement
* Deliver best practices using approaches for different types of learners
* Present evidence based on or supported by research and practice
* Target new, mid-career, and seasoned professionals
* Use multimedia approaches, including video, audio, etc.
Highlighted topics may include:
* Technological advances impacting telemedicine and telehealth
* Worldwide trends in telemedicine
* Direct experience outcomes
* Audience engagement
* Telemedicine program development and implementation
The overall program will result in a diverse array of presenters and perspectives, including different practice settings, different levels of experience, and a variety of institutional and organizational types.
Proposals with presenters from a single institution or multiple institutions will be considered equally.
Submission Guidelines:
Proposals
Each proposal must be 500 words or less and should include the following:
* Name, Title, and Organizational Affiliation for each presenter (not included in word count)
* Title of presentation (not included in word count)
* Learning Objectives (not included in word count)
* Description of topic and content
* Summary description of presentation content (this will be printed in the event program)
The abstract should be composed in a Word document or using Rich Text Format. Do NOT convert the abstract to a PDF before submission.
Biosketch
Submit a brief bio (no more than 75 words) for the lead presenter and or all panel presenters along with the proposal. Include at the top of the bio presenter's full name, email address, and phone number. A professional photo of the presenter(s) is also requested.
Submission Method/Deadline
Proposals and bios must be submitted by email to Keri Brantley at keri.brantley@gpth.org on/before 5:00 PM EST Friday, September 29, 2017. Late submissions will not be reviewed.
Selection Process:
Submissions that adhere to the above guidelines will be reviewed by the 2018 Annual Conference Committee (ACC). The lead presenter will be notified by email concerning the status of the submission during November 2017.
We appreciate your interest and welcome your proposal, but reserve the right to accept only those deemed suitable by Global Partnership for TeleHealth. While we cannot guarantee that you will be chosen to moderate or speak at a conference session, your name will be kept in our conference database.
Travel and Accommodations:
Speakers are responsible for travel expenses and accommodations.